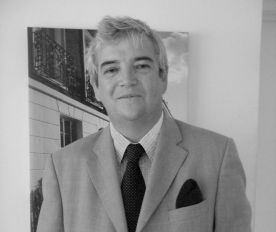 "Property is in my blood - my late father was a property developer with a large portfolio in West Kensington & Chelsea. My bothers and I spent many days assisting him in the redecoration and general refurbishment of his properties.

After achieving a BA (Hons) degree in History & Geography I went straight into estate agency in Kensington, moving after just a few years to Belgravia where I have been ever since. You cannot beat the stucco terraces, when the sun shines it is very elegant and imposing. It is a real privilege to operate in such a cosmopolitan environment.
I lived in London until the children came along, we then moved down to West Sussex. Even the daily commute does not stop me coming to the office, I thoroughly enjoy everything our sophisticated market has to offer.
I am very keen on country pursuits, including game shooting and horse riding. I enjoy skiing, tennis and have a particular interest in photography and can boast that most of the pictures in our office are taken in house!"
Most Memorable Deal: We were asked by a client to find a house within a 30 minute boat ride of Cadogan pier in Chelsea and with enough land for a few horses - an unusual and difficult brief. I located the ideal property within the curtilage of Syon Park, the London home of the Duke of Northumberland on the banks of the Thames in West London. It was reputed to have been the home of the celebrated artist William Turner. Having found the house we negotiated directly with the Duke to lease a few more acres of his family estate