Lest We Forget, The History of the Poppy
Armistice – or Remembrance - Day is celebrated every year at the 11th hour on the 11th day of the 11th month with a two-minute silence across Commonwealth Nations to mark the end of the First World War in 1918. It is a moment of reflection to remember the armed forces and those who have given their lives in the line of duty.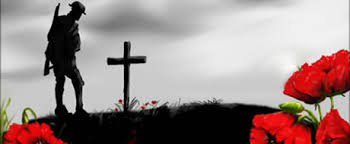 The humble Poppy, with its black centre and green leaf, has become a powerful symbol for this incredibly important event and across the country they are worn on lapels with pride as an act of Remembrance to our fallen heroes.
But why a Poppy?
The red poppy was inspired by the First World War poem, "In Flanders Fields" written by Canadian physician, Lieutenant Colonel John McCrae after witnessing the death of his friend and fellow soldier in Ypres. Flanders was the northernmost point of the Western Front during the First Wold War, becoming inscribed with muddy trenches and the scene of devastation with wounded, maimed and dead soldiers. In amongst the landscape, the Papaver Rhoeas or Poppy obstinately continued to grow.
Whilst the exact figure will never be known, around 11 million soldiers died in the First World War making it one of the deadliest conflicts in history.
In Flanders Fields
In Flanders fields the poppies blow

Between the crosses, row on row,

That mark our place; and in the sky

The larks, still bravely singing, fly

Scarce heard amid the guns below.


We are the Dead. Short days ago

We lived, felt dawn, saw sunset glow,
Loved and were loved, and now we lie

In Flanders fields.


Take up our quarrel with the foe:

To you from failing hands we throw

The torch; be yours to hold it high.

If ye break faith with us who die

We shall not sleep, though poppies grow

In Flanders fields.
Having been irrevocably moved by McCrae's poem, an American humanitarian Moina Michael decided to make and sell red silk poppies to raise money for disabled servicemen. Touched by her plight, in 1921 Anna Guerin brought the poppies to England from France where the Royal British Legion ordered 9 million to sell on 11th November. They were an overwhelming sensation, selling out almost immediately and raising over £106,000 to help house First World War veterans; an incredible sum at that time.
The Poppy Appeal was born and the following year the Poppy Factory was set up in Old Kent Road, London employing disabled and wounded ex-Servicemen. The Factory is still going strong although such was the demand the factory relocated to Richmond, Surrey where today they produce around 40 million poppies for wreaths, lapels and buttonholes.
We are certainly wearing ours with pride.
Lest we forget.